Naravisa Press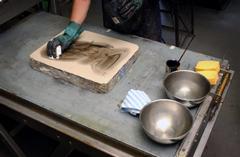 In 1980, after being shop manager and master printer at Tamarind Institute, Stephen Britko opened Naravisa Press in Albuquerque, New Mexico. Three years later, he moved the workshop to Santa Fe, NM.

Naravisa Press was a printmaking workshop where artists created lithographs, woodcuts, linoleum cuts and monoprints in collaboration with Britko on a contractual basis. All prints were printed by hand from lithographic stones and plates in limited editions.

Britko has collaborated and printed for Richard Tuttle, Susan Rothenberg, Luis Jemenez, Paul Pletka, Rudy Fernandez, Dan Namingha, Roy DeForest, Steve Forbis, Fritz Scholder and many other artists. Many of the prints are in the collections of private collectors and museums throughout the United States, Europe and Japan.